Fireplace & Chimney Services
Chimney Sweep Mobile Alabama
"Nobody gets there faster than us or better prepared. Over 100 years of combined experience!"
Guardian Chimney Sweep Mobile Alabama
During the summer, your Chimney may not get much use, but when winter comes rolling back around it becomes a necessity, either Spending quality time with your family or having a romantic evening with that special someone, whether it is, nothing can beat a nice warm fire.
However, if your chimney and fireplace don't get the proper maintenance and attention, it could turn those treasured moments into disasters.
An unkept chimney could lead to structural or water damages, as well as possible chimney fires if not swept as needed. That's where Guardian Chimney Sweep Mobile Alabama comes in. We specialize in keeping your chimney and fireplace safe and protected so you and your family can enjoy them for years.
We offer many services such as Chimney Sweeping, Chimney Inspections, Masonry Repairs, Water Leak Repairs, Installations, and more.
Give Guardian Chimney Sweep Mobile Alabama a call today, and you'll get to speak with a member of our highly trained staff who can answer any questions you have and schedule an appointment for a technician to visit your home.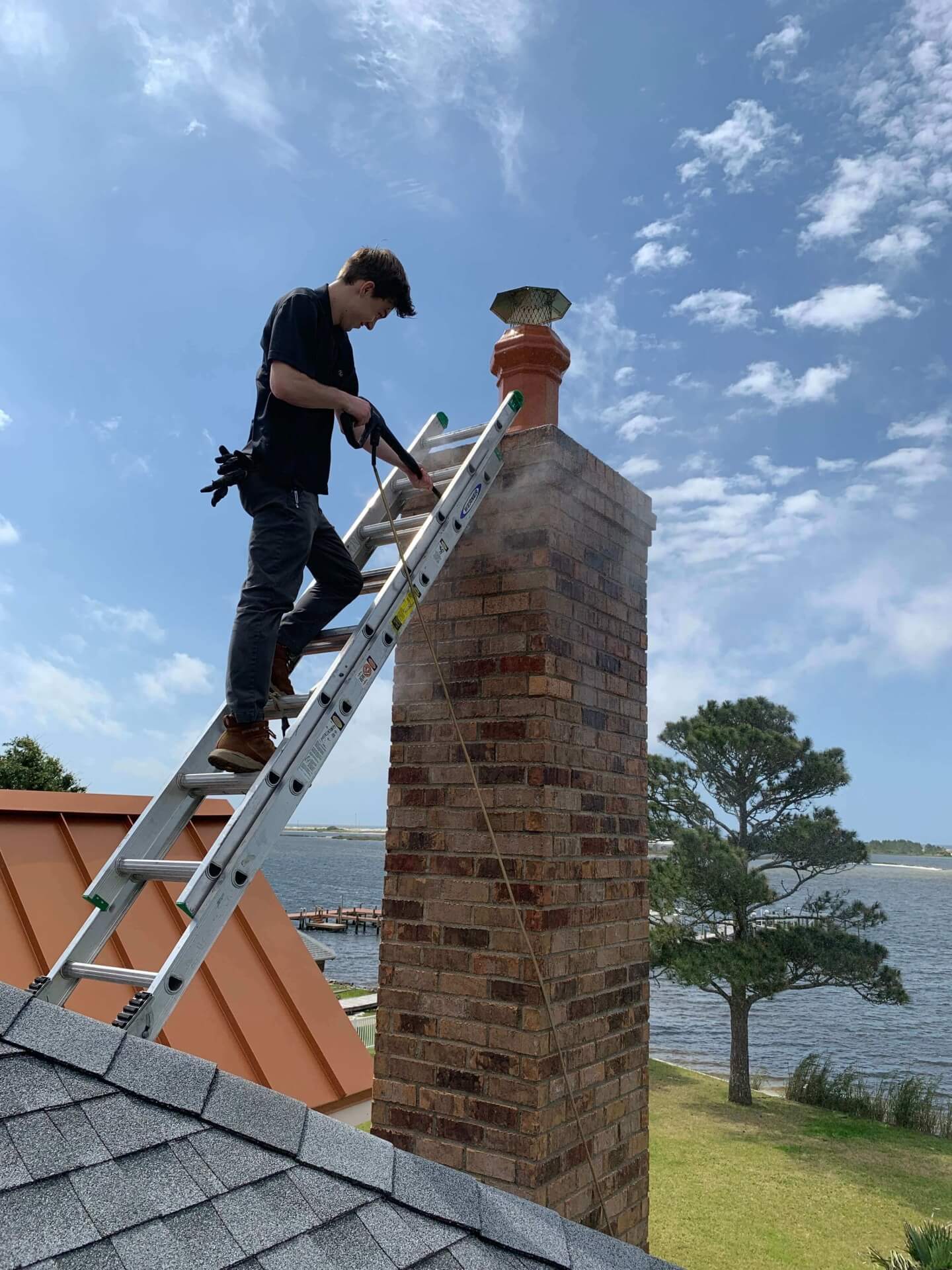 Fireplace Installations
We also offer expert fireplace installation. Our installations include inserts, wood stoves, ash dumps, and cleanout doors, and glass fireplace doors. We can also install a prefabricated fireplace, which uses steel pipes, or masonry, which we build brick by brick.
Simple and easy to make mistakes during installing can risk your home and family's safety, as well as lead to thousands in fireplace and chimney repairs. That's why when installing a fireplace you want a team with over 30-years of experience who you can trust.
Call Guardian Chimney Sweep Mobile Alabama today.
Water Leak Repair
Water leaks are definitely the most common reason for chimney and fireplace damage. If water leaks go unnoticed, they can lead to serious trouble down the line in regards to the structural integrity of your chimney. Here are the three most common signs of water leaks you can look out for
Spalling
Bricks are like sponges, they are porous and absorb water. During the winter, any water that is absorbed through rain sleet, or snow can freeze while trapped in the brick. This freezing causes the water to expand, which can cause the face and chunks of the brick to break off.
This can weaken the bricks, causing structural issues. a way to prevent spalling is by making sure your chimney getting enough sunlight to dry. Also Guardian Chimney Sweep Mobile Alabama offers water repellant services, to make sure the water can't be absorbed, to begin with.