Restoring smoke chambers can be an exceptionally included activity, requiring the removal of bricks and damper frame, and hand-use of refractory cement to the region to smooth and secure it. A smooth surface guides gas to go through the smoke chamber into a vent without the stream becoming hindered by spiked drops.
In the late spring of 2002, Smoketite was created. Smoketite is an exceptionally insulative product that is sprayed on a smoke chamber fixing openings and holes. With this product, it is impenetrable to acids, fumes, and water. Also, it is acceptable to 2291 degrees Fahrenheit with a lifetime guarantee with the product.
This product is simpler than the other choices along with being additionally lightweight and compact enough to be stored on each sweep service truck. This product is useful for specialists introducing ss linings and chimneys that Smoketite permits them to seal the bases and total smoke chamber in one operation.
Once this product is established, the smokestack will be shielded from the firebox and up; not simply from the pipe liner and up. Essentially, it means a more grounded smoke chamber, a more proficient smokestack, higher insurance against fireplace fires, and a prolonged stack administration life.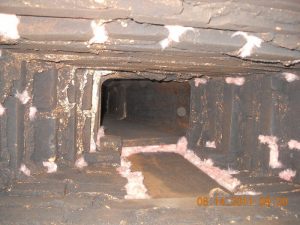 About Guardian Chimney Sweeps
Our main focus is to provide high-quality service to our customers to establish loyalty and trust. Our team are trained experts in this line of work. Clean and being considerate of your home and property are taken into thought throughout our services. We will call ahead with an expected arrival time frame or delays, there will be photos taken before and after our work.
Our team will focus on your specific needs rather than making a sale. Building a relationship with our customers is the top priority. We are here to help, whether it is simple maintenance tips to detailed advice on fireplace installations.